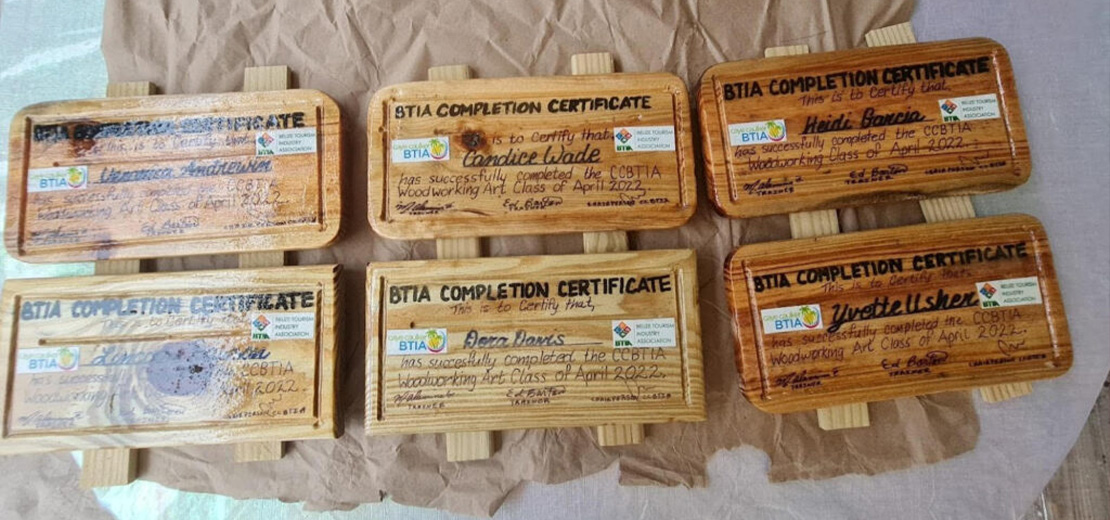 Caye Caulker BTIA Congratulates Its First Woodwork Art Class
In May, a Certificate Ceremony was held for the six participants who completed CCBTIA's first ever Woodwork Art Class. Championing the initiative was Ms. Candice Wade, a new BTIA member, who was the coordinator.
The trainers were:
Mr. Ed Barton who has a keen interest in passing on the skills of his hobby;
Marcial Alamina III, long-standing BTIA member and village mentor who is a much-accomplished lifetime master carpenter in Belizean fine woods and a jeweler in precious metals and stones;
Allie Johnstone, BTIA member and talented artist who contributed the lettering on the wooden certificates specially crafted for the class; and,
Final finishes on the certificates were recommended by Mr. Buddy Magaña Sr.
Under the auspices of the CCBTIA, Ms. Wade and five other participants who are all residents of Caye Caulker, were welcomed to Mr. Barton's workshop where for two full days they got guidance and hands-on training in the use of woods, designs, and a variety of tools including bandsaw, lathe, and sander. With the combination of natural talent, creativity and a drive to learn, an amazing variety of useful and decorative items were produced by the participants – Candice Wade, Dora Davis, Yvette Usher, Veronica Andrewin, Heidi Garcia and Lincoln Dawson. The next workshop is scheduled for the third week of July 2022 and spaces are already filled. Congratulations to the woodworkers and much appreciation to all those who made it possible.