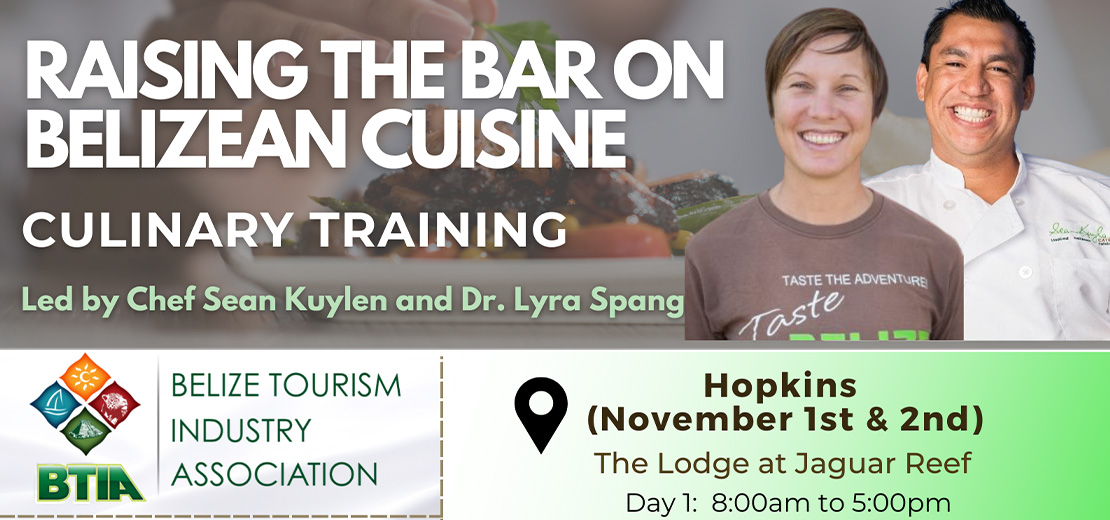 Raising the Bar on Belizean Cuisine
BTIA is diligently preparing for our highly anticipated culinary training in early November, which is guaranteed to take local cuisine to the next level. Celebrated Chef, Sean Kuylen and well-known Belizean food scholar, Dr. Lyra Spang will be leading a two-day course for chefs and sous-chefs in Hopkins, San Ignacio and San Pedro.
The interactive training will involve both classroom instruction and hands-on cooking and the focus will be on discovering and sourcing local ingredients while developing innovative, Belizean-infused recipes.
The participating chefs will be inspired to take the sound tradition of Belize's multi-ethnic cuisine and explore ways to enhance that dining experience at our stand-alone restaurants and resort dining rooms.
The training sessions will be held at the Lodge at Jaguar Reef in Hopkins on November 1 and 2 and at Cahal Pech Village Resort in San Ignacio on November 4 and 5. In San Pedro, the theoretical sessions will be held at Sun Breeze Hotel while the practical sessions will be held at Hidden Treasure Restaurant and Lounge. The training will culminate with a demonstration dinner at the three venues on night two. This is an ideal opportunity for residents in these areas to support the chefs while enjoying a delicious 5-course dinner that they will prepare to showcase their skill and creativity.
According to Dr. Spang she is excited about the training, "This training comes at an ideal time as culinary tourism is the fastest growing segment of the international tourism industry. Sean and I both have the same mission, which is to elevate Belizean cuisine and make Belize a culinary destination."
Chey Kuylen, who shares Dr. Spang's enthusiasm, stated, "Visitors to Belize want to enjoy authentic, Belizean cuisine. This training is aimed at inspiring the chefs to be more creative when it comes to preparing their meals so that they will leave a lasting impression on their guests."
The fees for the two-day course are $300 per person for BTIA members and $400 for non-members. Non-members who wish to join BTIA for 2023 will receive the member's rate. To make it easier for interested chefs to attend, those who do not reside in the three destinations can take advantage of concessionary room rates which will be announced closer to the event dates.
Space is limited to 30 students for each of the three events with a maximum of two attendees for any one property. Employers, this is an excellent way to let your chefs know that after two years of the covid pandemic you care about their professional development. We encourage you to sign up now as this is one opportunity you do not want to miss!