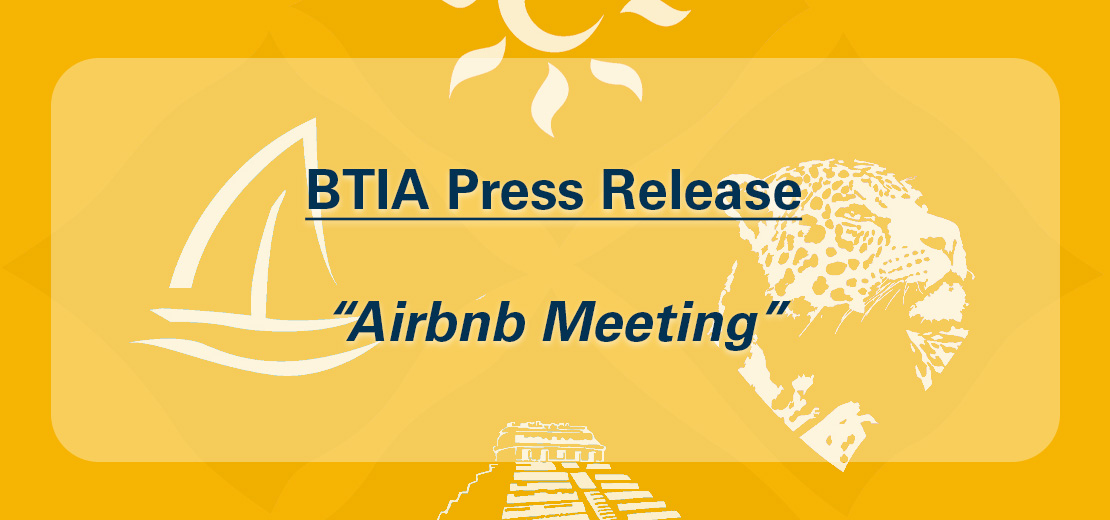 Press Release: Airbnb Meeting
Press Release:
On May 11th, 2017, BTIA representatives held a meeting with two Airbnb officials, Mr. Shawn Sullivan and Mr. Carlos Munoz, who are responsible for Airbnb's public policy division for Latin America and the Caribbean. BTB's Business Development Manager, Sean Tang, also participated in the meeting. Airbnb is the number one online marketplace and hospitality service that allows people to lease or rent short-term lodging including vacation rentals, apartment rentals, homestays, hostel beds, or hotel rooms.
The purpose of the meeting was to discuss concerns related to the current negotiations between Airbnb and the Government of Belize via the BTB. The BTIA representatives focused on the following areas of concern: a.) Taxation, b.) having a level playing field for Hoteliers and Airbnb Hosts, c.) for Airbnb hosts to be required to be registered under the Hotels and Tourist Accommodation (Minimum registration, licensing and operating requirements) Regulations and d.) for Airbnb hosts to meet minimum standards for health, safety and security as required for all registered hoteliers in Belize.
In relation to taxation, the Airbnb officials responded that they are willing to collect Hotel Tax from Airbnb hosts on behalf of the BTB through an agreement with GOB. The Airbnb officials stated that they understand the concerns of the registered hoteliers about the impacts on their market share of tourists coming to Belize. Airbnb would be willing to offer marketing support to the BTB in order to increase overnight tourist arrivals in Belize. With regards to the hotel registration being a requirement for Airbnb hosts, the Airbnb officials stated that they cannot request share personal data from hosts, due to United States and European Union privacy regulations. However, Airbnb is willing to encourage and make all hosts aware of their licensing and taxation obligations.
Airbnb stated the following facts about their services and platform:
Airbnb guests stay twice as long and spend twice as much as traditional travelers, supporting neighborhoods) and local business
79% of travelers want to explore a specific neighborhood
91% of travelers want to live like a local
74% of Airbnb properties are outside the main hotel districts
Airbnb guest stay 2.1x longer than typical visitors
Airbnb guests spend 1.8x more than typical visitors
42% of guest spending is in the neighborhood where they stay
Airbnb statistics for Belize as of May 1, 2017:
600 active hosts in Belize (properties with more than one booking)
Average age of host is 47 years
29,000 Inbound arrivals in the past year
4 days is the average length of stay per guest
Average of 28 nights hosted per year for a typical listing
Active listings by type: 65% entire home rental, 33% private space rental and 2% shared room
85% of guests come from North America
10% of guests come from Europe
3% of guests come from Latin America and 2% come from Australia
Airbnb proposes the following specific benefits to Belize:
To work and collaborate with the GOB/BTB to promote tourism to Belize, doubling the number of tourists in the next 2 years;
To market the unique and adventurous aspects of Belize through their internet platform;
Offers to collect and remit hotel taxes to the BTB on behalf of hosts;
Airbnb hosts will be made aware of the benefits of registering with the BTB;
A streamlined and modern registration system that recognizes this new sharing economy;
Airbnb is willing to share aggregate data to the BTB. This data will provide detailed information about demographics, composition, country of origin, interests and other relevant info associated with hosts and tourists using the Airbnb platform.
The Airbnb representatives presented their willingness to work with the Government of Belize and the private sector, and to promote specific destinations and festivals (events) in Belize using their internet platform.
The BTIA will continue to monitor the Airbnb and other vacation home rentals online platforms and their potential impacts on our tourism industry and members. We will keep our membership informed of related developments.
Submitted: 24 May 2017
Submitted by:
Belize Tourism Industry Association
#10 North Park Street
P.O. Box 62
Belize City, Belize
Office #: (501) 227-1144
Email: [email protected]