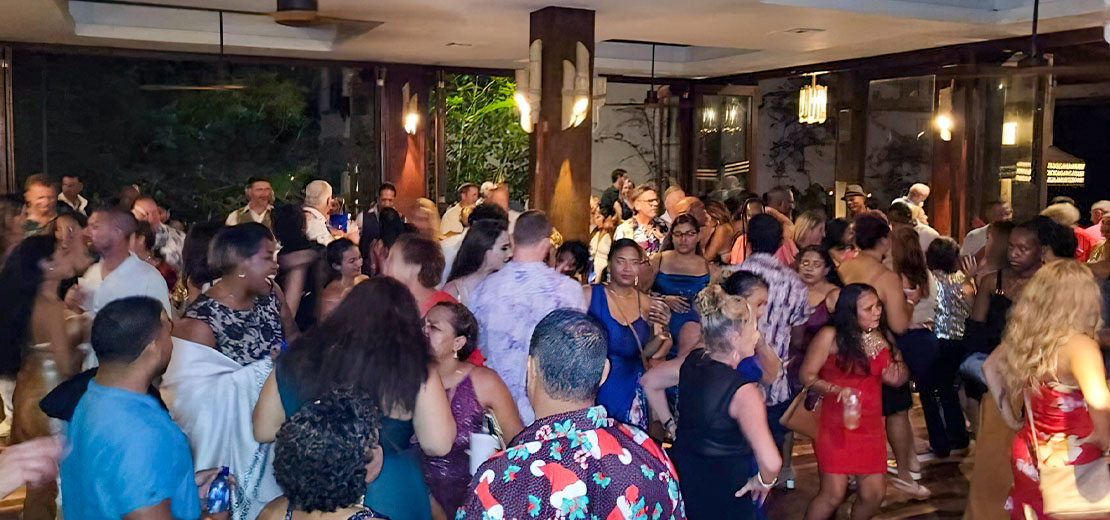 Placencia's Mistletoe Ball 2022
The Mistletoe Ball, the largest and most glamorous holiday celebration on the Placencia Peninsula, was held on Saturday December 10th, at the beautiful Umaya Resort. With the last Ball being held in 2019 it is safe to say the Peninsula community was more than ready for this night and they were not disappointed.
More than 200 guests enjoyed a one of a kind holiday buffet that included succulent braised ox-tail, craboo smoked bbq chicken, Korean spiced shrimp and vegetable stir fry, a longaniza and garbanzo bean curry along with an assortment of delicious sides while enjoying festive holiday music in the upper level banquet hall.  Meanwhile downstairs, more and more people were joining the festivities dressed in their finest dresses and outfits.  It didn't take long for the party to get underway with Placencia's DJ Boneyfide starting off the night along with the Super Furia Band.  The dancing started inside but soon spilled out onto the deck.  The comfy little seating nooks found from the main party area down to the lagoon side dock were perfect for those that needed a breather or just wanted to catch up with old friends.  The Ball lasted well into the wee hours of the morning and it is being modest to say a good time was had by all.
Many party-goers made a weekend out of it, taking advantage of the discounted room rates being offered by Umaya.  For those who chose not to stay, the Holly Jolly Trolley (a.k.a. The Mistletoe Express) offered free shuttle services throughout the night and helped to make sure everyone got home safe and sound after the fun was over.
Along with the dinner and the dance there was a grand raffle with over 50 prizes donated by area stakeholders.
The Placencia Tourism Center, headquarters of the Placencia BTIA, has been holding the Mistletoe Ball since 1999 and it is one of four the major fundraising events that are organized by the Placencia BTIA annually.
This event was made possible by the support of Umaya Resort, REMAX 1st Choice Belize,  Itz'ana Belize Resort & Residences, Lost Reef Resort, Ocean Breeze, Belize Tourism Industry Association (BTIA), Placencia Office Supply, Laura's Lookout, De Tatch Restaurant & Beach Bar, Sutherland Fresh Vegetables, Smoqiz, Bamboyaz, Bird Island, Harvest Caye, Belize, Belize Unknown, Hammock Time Management, Caribbean Beach Cabanas, The Little Wine Bar, Jaguar Lane Bowling, Flowers Property Management Services, & Driftwood Gardens Guesthouse.