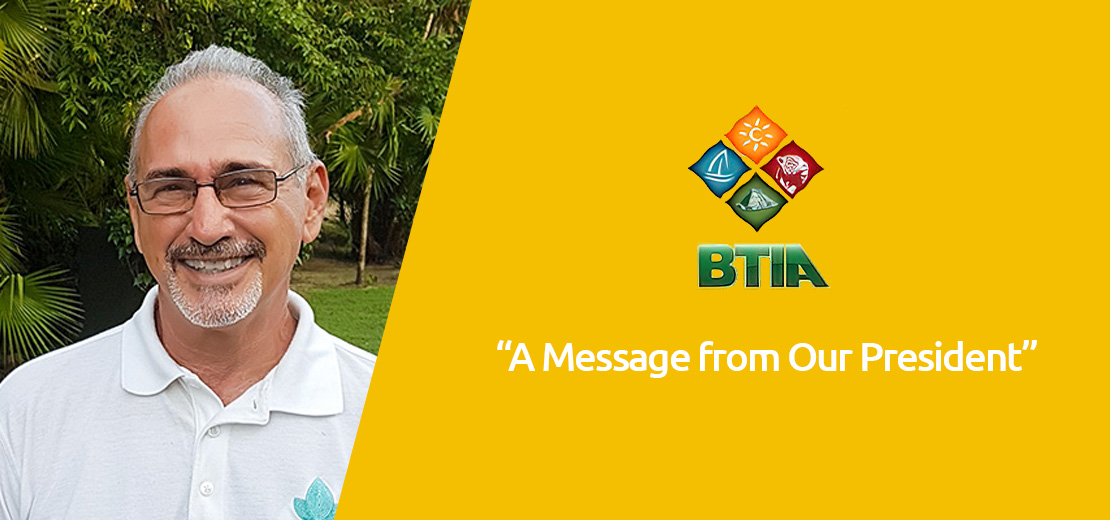 Message from the President May 2022
Dear BTIA Members:
Our experience with the concept of human nature tells us that as a species we tend to have short memories. Case in point: for at least a year-and-a half our industry suffered the most devastating blow in its history. Today, barely two years from the shutdown of our borders, massive layoffs and millions of dollars in losses, the buzz among tourism stakeholders is how strong the recent recovery has been and what new investments we will be making in the future.
What a difference a few months make!
And what better time to meet and share what we've learned and figure out where we are going? What I'm talking about is BTIA's upcoming Tourism Summit: Reimagining Belizean Tourism. On May 26 all BTIA members and tourism stakeholders are invited to come to the Biltmore in Belize City for an opportunity to get reacquainted with each other– in three dimensions instead of two – and tackle some of the issues that we may have lost track of during the pandemic.
The summit is being coordinated by the BTIA in partnership with the University of Belize and with support from MAR Fund. The keynote speaker will be Vincent Vanderpool Wallace, former head of the Caribbean Tourism Organization and former Bahamas Minister of Tourism. There are few people in the world more knowledgeable about our region's biggest industry. There will be five panels on the agenda:
–Preparing for Climate Change: Is Beach Tourism an Endangered Species?
—Belize City Cruise Ports: How Many is Too Many?
–Branding Belizean Tourism for Resilience
–Airport and Land Borders: Short and Long Term Solutions
–Looking Ahead: What is the Goal and How do We Get There?
In addition to our distinguished keynote speaker we will be joined by Minister of Tourism, Hon. Anthony Mahler and a roster of insightful panelists. There will be ample time for audience Q and A as well opportunities to network with colleagues over lunch and during the post-summit cocktail hour. Attendance is free for BTIA members, $25.00 for non-members and includes buffet lunch. This is an occasion not to be missed so save the date and join us on May 26. There will be more details as the date draws closer.